Welcome!
Thanks for stopping by. I hope you've had a chance to poke around a bit on this site- and hopefully learned a thing or two! Real Estate and Estate Planning may not sound too exciting, but they are areas of law that are constantly changing and – let's face it- being in the know is never a bad thing!
I wanted to introduce myself so you know me not only as Stephanie the Attorney, but on a more individual level. After all, my aim is to provide you with a more personal approach to the often-stressful and difficult times in which one requires a lawyer. If I have to ask you personal questions for your estate plan, then I want you to feel as though you know a little about the person sitting there taking notes in order to draft what are among the most important documents you'll need in your lifetime.
After growing up in the suburbs of Detroit (Go Red Wings!) and doing a stint in the Northeast (where I attended Benjamin N. Cardozo School of Law), I decided to hang my shingle in sunny South Florida after one polar vortex too many.
When I'm not working, I spend my spare time volunteering with a wonderful animal shelter that has saved countless lives since their inception in 1995. I enjoy a good historical fiction novel alongside a strong cup of coffee and traveling with my incredible husband (we are up to 16 different countries… and counting!) And last, but certainly not least, I can't get enough of the 4-legged loves of my life, my Shih Tzu's Oreo and Millie.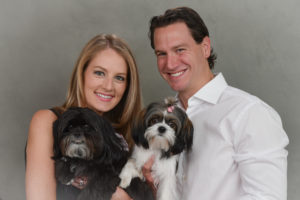 Know that I am always available to answer any questions you may have in any of the areas in which I practice. I do not charge for any consultations- whether in person or over the phone- and my end goal is to have happy clients! I look forward to working with you.
Sincerely,
Stephanie